*Please note: these updates can change often. Check back often for the most recent updates*
*UPDATED March 23, 2021*
The Oxford Aquatic Center will open for the 2021 season. Exact details are still being finalized. Season passes will be sold, swim lessons will be scheduled, and swim team will have a season also. More details coming soon. Check the new activity guide often for updates.
The
TRI Community Center
is OPEN to the public. The fitness area is available by reservation due to physical distance requirements. Walk-ins will only be accepted if there is no current user of the fitness area. Reservations can be made
online here
or by calling 523-6314. Basketball may be played in the gym upstairs, as long as there is not more than two households at a time, unless participating in a team practice or function. Pickle ball play is permitted at designated times. Private team rentals are also available. Please contact the office at 513-523-6314 for additional details or to make a reservation. Per Oxford City Ordinance, masks are required inside the building, unless the customer is actively exercising/playing sports or has an exempted condition.
The
Attic Teen Center
is open 3-7pm Monday to Friday and 10am-1pm on Saturdays. No more than 8 total participants in the teen center. Masks must be worn at all times.
Youth sports: Outdoor youth sports leagues are operating. Miami Little League and SAY Soccer both have additional safety measures in place. Please contact the respective leagues for questions about how they operate and what protocols are being used.
Outdoor facilities and sports courts, such as the playgrounds and basketball courts, are all OPEN!.
Northside Bark Dog Park
is also open! Baseball and soccer fields are available for individual/household use, but all organized groups or activities must be approved by Oxford Parks and Recreation. Contact
Jake Richardson
, Sports Supervisor, to schedule sports field usage.
Outdoor trails and walking/bike paths remain open for use. Please maintain social/physical distancing when using outdoor facilities, and follow CDC Guidelines for cleanliness. Ensure you do not have any symptoms related to COVID-19 prior to using any outdoor facilities.
Stay Active, but Stay Healthy!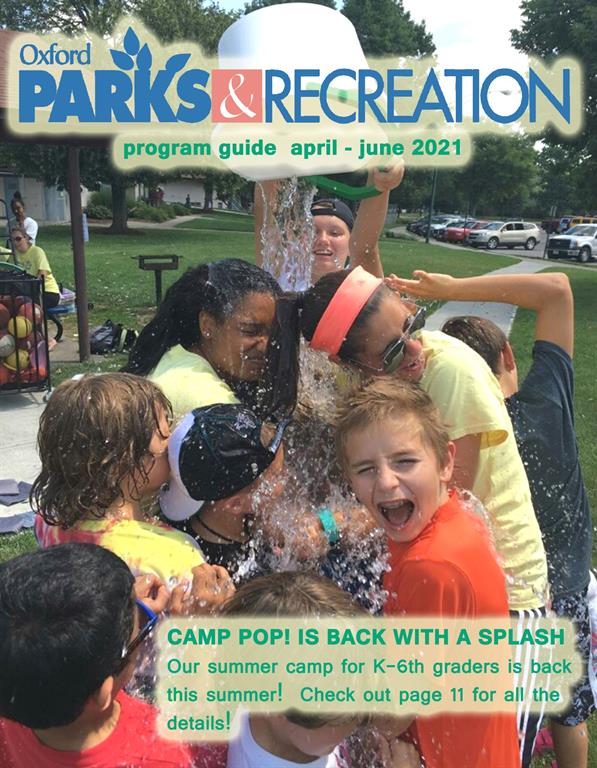 Director / General Questions:
Casey Wooddell - cwooddell@cityofoxford.org
Sports Contacts:
Jake Richardson - jrichardson@cityofoxford.org
Dustin VanWinkle - dvanwinkle@cityofoxford.org
Programs/Aquatics Contacts:
Ryan Himes - rhimes@cityofoxford.org
Emily Sollenberger - esollenberger@cityofoxford.org
Preschool Contacts:
Jessica James - jjames@cityofoxford.org
General Questions / Receptionists:
Deanna Barbour - dbarbour@cityofoxford.org