AWARD WINNING AQUATIC CENTER IN OXFORD, OHIO! Oxford Aquatic Center was recognized as the best new aquatic center in the state of Ohio in 2019. This facility contains a zero-depth activity pool with kiddie area, aquatic play structure, family slide, lazy river, basketball hoop and large open-flume slide. There is also a separate 8-lane competition pool with diving boards and another basketball hoop.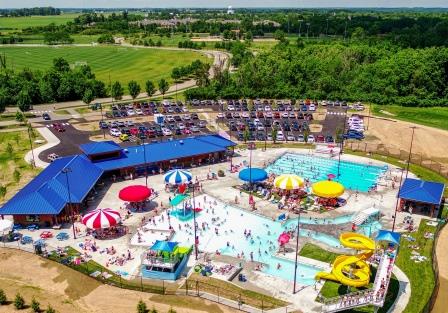 Permanent Pavilion, Party Deck and Indoor Party Room can all be reserved during regular operating hours. Aquatic Center is open Memorial Day weekend to Labor Day weekend. To ensure proper scheduling and avoid conflicts, reservations cannot be made online.
Want to bring a summer camp, day camp or other large group to the Aquatic Center? Let's Make It Happen! Contact Emily or Casey for details!
OXFORD AQUATIC CENTER - 2020 SEASON INFORMATION!
Opens May 23, 2020
Daily Hours: 12:00-7:00pm
Adult Swim 7:00-7:30pm (Daily) & Sat. 9:00-10:00am
Water Aerobics: Tue/Thur 7:00-8:00pm & Sat 9:00-10:00am
Daily Admission:
Ages Under 2: Free
Age 2-17: $5
Age 18-59: $8
Age 60+: $6
Rules:
*Full rules listing posted at the main gate of the Aquatic Center*
Some basic rules:
Have fun and be safe!
Proper swim attire is required. No cutoffs, jeans, khakis or thongs permitted.
Children under 10 may not be alone at the facility without an individual age 16 or older directly supervising them at all times
No alcohol, tobacco products, smoking or vaping is permitted
All floatation devices must be US Coast Guard Approved. OAC offers free use of life jackets at the facility
No running, foul language or display of inappropriate items on clothing
No fighting, arguments or other disruptive behavior will be tolerated
The large yellow slide has a 48'' height requirement. No height requirement for green or red slides
Swim tests required to use the diving boards for ages 14 and younger. Guards may test any guest at their discretion.
Swim tests are also required to use the section of the competition pool greater than 42'' deep.
Food, drinks and coolers are not permitted to be brought into the facility. There is an outdoor eating area for guests.
Re-entry is permitted, ONLY with a hand stamp from the admissions gate.
To learn more: visit our Oxford Aquatic Center Facebook page